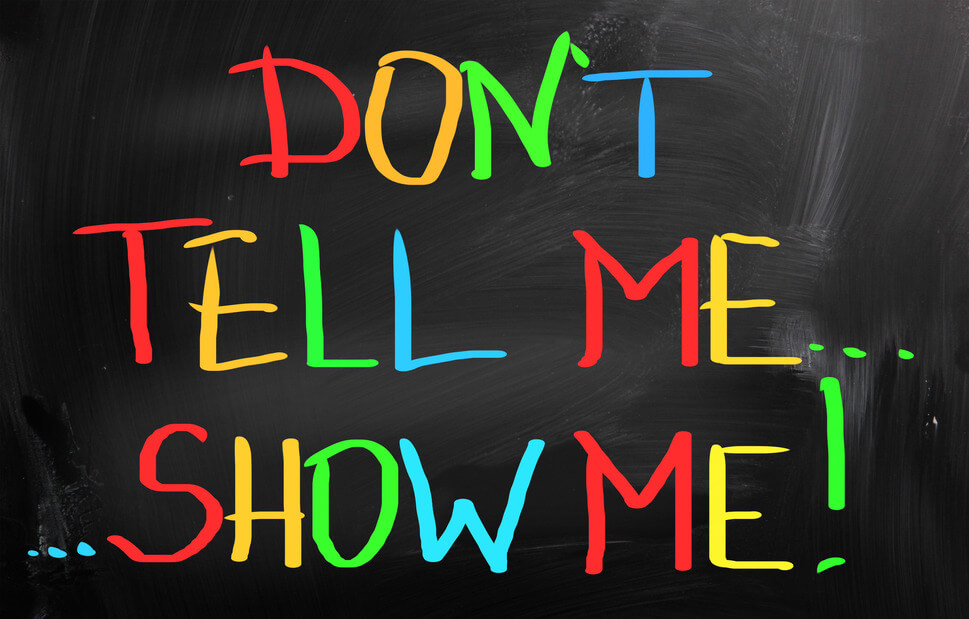 In fiction writing, editors often talk about the concept of "show, don't tell."  This means that instead of telling the reader that someone is scared, show us that they are scared. 
For example: "Lucille was afraid when she heard a sharp knock on the door," versus "Lucille's heart skipped a beat and her hands were damp when she heard a sharp knock on the door."
See the difference? The same holds true when communicating about your brand.  One of the best ways to show what your brand and company stand for is through storytelling (see What's your story).  I've seen two great examples recently that contrast the difference between showing and telling.
Overstock.com has a series of commercials running now where two leaders of the company are on-screen talking about their company.  The CEO tells us that "the simplest way to think of Overstock is a million products, better prices, great branding."  Then the company president says "Overstock.com was founded on good old-fashioned business principles. You can trust us. The products that we have on Overstock supports every lifestyle, every life event."  CEO comes in next and says, "It transmits into how we treat consumers, but also how we treat the suppliers. It's not just a transaction.  It's a relationship." 
Do you believe them?  Do you get a sense of who they are as a company?  The commercial crams in a lot of messages but doesn't quite ring true when it comes to believability.  It's a combination of features – better prices, and benefits – supports every life event.  But there really is no story here and it doesn't create a picture of what it means to do business with them.
What if they had taken the idea of life events and shown something like a worried dad talking to a customer service rep at Overstock.com about making sure the new crib will arrive in time for the birth of his first child?  What if they portrayed a newly married couple moving into their first home and getting excited when the items from Overstock.com arrive? 
On the other hand, Zillow does a masterful job of evoking a feeling of their brand. Their ad features a couple hunting for a home while making a trip to pick up an adopted son. The spot is engaging and heartwarming. It uses emotion as a way to draw the viewer in and clearly illustrates how Zillow fits into your life.  (See QuickHits for Effective marketing appeals to emotions and not reason.)
"Finding and creating a home is more than just buying a house — it's an emotional process that involves everyone in a family," said Amy Bohutinsky, chief marketing officer of Zillow. "With these new ads, we are providing real-life examples of the many different ways people turn a house into a home, and the way Zillow empowers this process."
In both cases, company features are clearly illustrated.  With Overstock.com we know they have a variety of products at a good price.  With Zillow we see how convenient it is to use their product.  But Zillow stands out because they clearly show the impact of doing business with them.  They don't just tell us to "trust us," as Overstock does.  They show us they understand we have busy lives and that their product fits into our lifestyle.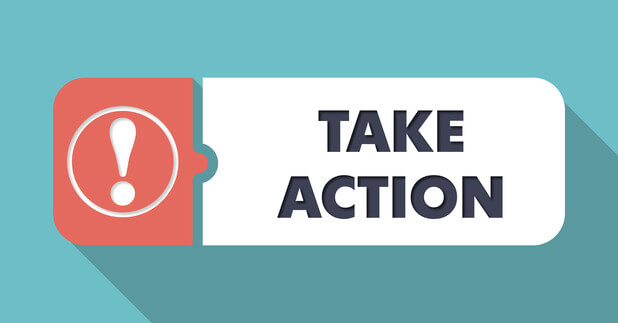 Can you turn your business features into clear benefits for your customers by showing them what it means to do business with you, as opposed to telling them?